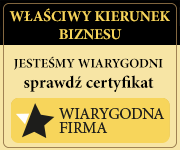 Biuro Rachunkowo – Doradcze Agnieszka Fijałkowska is the one-man firm offering services from the range of:
the book-keeping (full book-keeping of capital companies, mostly Ltd., and simplified tax rolls)
personnel and payroll calculation services
accounting advisory services (preparation of detailed list of accounts and policies of the accountancy)
preparation of financial statements and reports based on the accounting books, also in English
English translations
settlement of UE projects, preparation of yearly statements ref. the environmental payments and waste material (on the ground of the records delivered by the Customer).
My offer is directed to small service firms and small commercial and manufacturing companies, which prefer to concentrate on the development of their own activity, and would like to relegate the book-keeping to the external professional, with simultaneous labour costs saving. These companies will find in the Office services:
on-time
professional
comprehensive
Accounting services are performed by the book-keeper with the long-term experience in the book-keeping, also with management practice, very well educated, constantly updating her knowledge within the range of accountancy, taxes and social services, who is also the member of the Association of Book-keepers in Poland The individual approach lets me to adapt my services and prices to expectations and needs of the Customer. Within Warsaw - Ursus there is the possibility of the personal reception of documents from the Customer. I possess also Chief Accountant Certificate issued by Accountants Association in Poland I can also submit detailed CV and references on demand of the Customer.